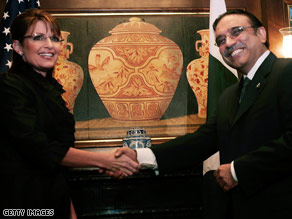 CNN
has this to say:
Pakistan's recently-elected president, Asif Ali Zardari, entered the room seconds later. Palin rose to shake his hand, saying she was "honored" to meet him. Zardari then called her

"gorgeous"

and said: "Now I know why the whole of America is crazy about you."

"You are so nice," Palin said, smiling. "Thank you." A handler from Zardari's entourage then told the two politicians to keep shaking hands for the cameras. "If he's insisting,

I might hug

," Zardari said. Palin smiled politely.
Comment:

An excerpt from Zardari's BBC interview with Owen Benett Jones on 25 April 2008:

OBJ:

Jemima Khan wrote ... and I quote from her interview with President Musharraf. She says in the end: "He shakes my hand. 'It will be the saddest day for Pakistan if Benazir's crooked widower is in power by Monday,'I say. As the President walks away, he looks back. 'At least we part on agreement.'"



AZ:

Well ... what can I say ... she is pretty.



OBJ:

Pretty? Are you trying the charm offensive on Jemima Khan?



AZ:

One should have pretty friends.

Condoleeza Rice too had written about how Shaukat Aziz had tried to charm her.

What's wrong with these Pakistani leaders? Do they really think powerful and successful women like Condoleeza Rice, Jemima Khan, and Sarah Palin can be charmed by some oily one-liners?